Curarea candicans
Common Name: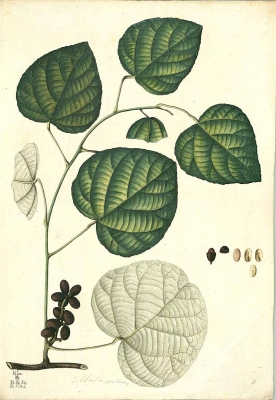 Fruiting branch
Photograph by: 
Mutis, J.C., Drawings of the Royal Botanical Expedition to the new Kingdom of Granada, t. 1907 (1783-1816) [S.R. Blanco]
General Information
Curarea candicans is a vigorous climbing shrub that is able to climb high into the rainforest trees.
The plant is much used by native people in making the arrow poison curare. It is also collected from the wild for medicinal use.
Known Hazards
The root contains toxic alkaloids. It is used in the preparation of curare, a well-known S. American poison used by hunting people to paralyze their prey[
].
Botanical References
Range
S. America – Brazil, Peru, Venezuela, the Guyanas.
Habitat
Upland rain forest[
].
Properties
| | |
| --- | --- |
| Medicinal Rating | |
| Habit | Climber |
| Height | 20.00 m |
| Cultivation Status | Wild |
Cultivation Details
A dioecious species, both male and female forms need to be grown if fruit and seed are required.
Edible Uses
None known
Medicinal
The root is used as a source of 'Pereira root'[
]. It is considered to be a bitter tonic and diuretic[
].
The root contains a number of alkaloids including chondoinine, beheerin and misobeerin[
].
The whole plant is mixed with other plants and used as a tonic in the treatment of pain[
]
The sap is dripped into the ears as a treatment for earache[
].
The wood is used as an aphrodisiac and for the treatment of malaria and sores[
].
Other Uses
None known
Propagation
Seed –
Only logged in customers who have purchased this product may leave a review.